Air filters: Portable & Centralized home filtration
Portable
Use air filters in your home and office and possibly in your car. Use an air filter in your car to reduce exposure to diesel fumes and other VOCs. These are not only dangerous themselves, but carry heavy metals and other pollutants that increase their toxicity.
(Effect of diesel exhaust particle extracts on collagen-induced arthritis in mice. Autoimmunity. 2002 Feb;35(1):57-61. Yoshino S, Hayashi H, Taneda S, Sagai M, Mori Y. Dept of Pharmacology, Kobe Pharmaceutical University, Kobe, Japan.)
Austin Air and other more expensive air filters are worth the premium: You can spend less money on an air purifier but it will not perform like an Austin Air or other top quality air purification systems that live up to their claims. Other brands may claim to use HEPA technology but do not use true HEPA grade materials. Also be aware that many other brands with a lower initial cost require filter changes every 6-12 months making their true operating cost much more expensive for a lower quality unit. Austin Air purifiers require filter changes only once every 5 years under normal residential use saving you money over time. They are designed to be run 24 hours a day and are energy efficient costing only pennies a day to operate.
Austin Air has been tested by some of the world's most respected testing labs like Battelle Laboratories and the U.S. Army Corp of Engineers. Extensive tests on flow rate, flow design, removal of vapors, gases and sub-micron particles have been performed on an Austin Air cleaner.
As result of this testing, Austin Air was chosen by the US Government to fulfill the largest deployment of air cleaners in American history and chosen by FEMA and The Red Cross to address the serious air quality concerns in post 9/11 New York. When clean air is critical and lives depend on it, Austin Air remains the #1 choice.
Austin has tested and printed a comprehensive list of the toxins that they can and cannot remove from your household air:
Austin Air Baby's Breath Purifier
Your baby deserves the best start in life. The Baby's Breath™ offers the highest level of protection from a variety of airborne contaminants, ensuring your baby receives the cleanest air necessary for proper development and growth. In addition, the Baby's Breath creates a gentle hush resembling the familiar sound your baby enjoyed for nine long months in the womb. This soothing white noise is clinically proven to help infants fall asleep more easily and sleep more soundly. Fits beautifully into any nursery decor and does not emit any ozone like some of the ionic air purifiers. Baby's Breath was recently featured on the NBC Today Show in a segment on Healthy Homes: Toxins in the home.
360° Progressive Filtering System
The Baby's Breath addresses the complete spectrum of air cleaning, removing sub-micron particles, noxious gases and chemicals. Every minute, The Baby's Breath draws over 125 cubic feet of air through a 4-stage HEGA filter containing Activated Military Carbon Cloth and over 30 square feet of True Medical Grade HEPA. The result, more clean air delivered faster and more efficiently than any other air cleaner on the market.
STAGE 1: Large Particle Pre-filter. Removes particles easily seen by the naked eye (e.g. dust, hair and pet dander)
STAGE 2: Medium Particle Pre-filter. Removes small to medium size particles (e.g. molds, spores and pollen)
STAGE 3: Activated Military Carbon Cloth. Removes chemicals, gases and odors (e.g. formaldehyde and ammonia)
STAGE 4: 30 ft. of True Medical Grade HEPA. Removes harmful micro-organisms (e.g. bacteria and viruses)
Benefits of Austin Air purifiers over other brands on the market include:
• Removes a wide variety of contaminants such as dust, animal dander, mold spores, bacteria, viruses and chemical gasses and odors.
• Does not produce ozone which can damage sensitive lung tissue and trigger asthmatic attacks.
• Designed to run quietly and continuously, literally costing only pennies a day to operate.
• Filter needs replacement only one in every five years, saving you money over time.
• Made of strong steel with a baked on finish that resists scratching.
• Available in several designer colors that will fit into the décor of any home.
• Backed by an Austin Air 5-year warranty. Austin Air offers a 5-year pro-rated filter warranty, by far the most comprehensive in the industry. No more costly filter replacements every few months or even years. Austin Air filters are designed to last for an amazing 5-years, under normal residential use.
Backed by the Manufacturer's Warranty
5-Year Mechanical Warranty Your Austin Air cleaner is warranted to be free from defects in material and workmanship for a period of 5-years from the date of purchase; provided your Austin air cleaner was operated under normal residential use and that you have completed and returned your warranty registration to Austin Air Systems.
5-Year Pro-rated Filter Warranty Austin Air offers a 5-year pro-rated filter warranty, by far the most comprehensive in the industry. No more costly filter replacements every few months or even years. Austin Air filters are designed to last for an amazing 5-years, under normal residential use.
The Baby's Breath comes with feet at the base as it is small and light enough to be easily moved from one location to another (~15 lbs). Only the larger models come with wheels on the bottom.
B. Centralized home filtration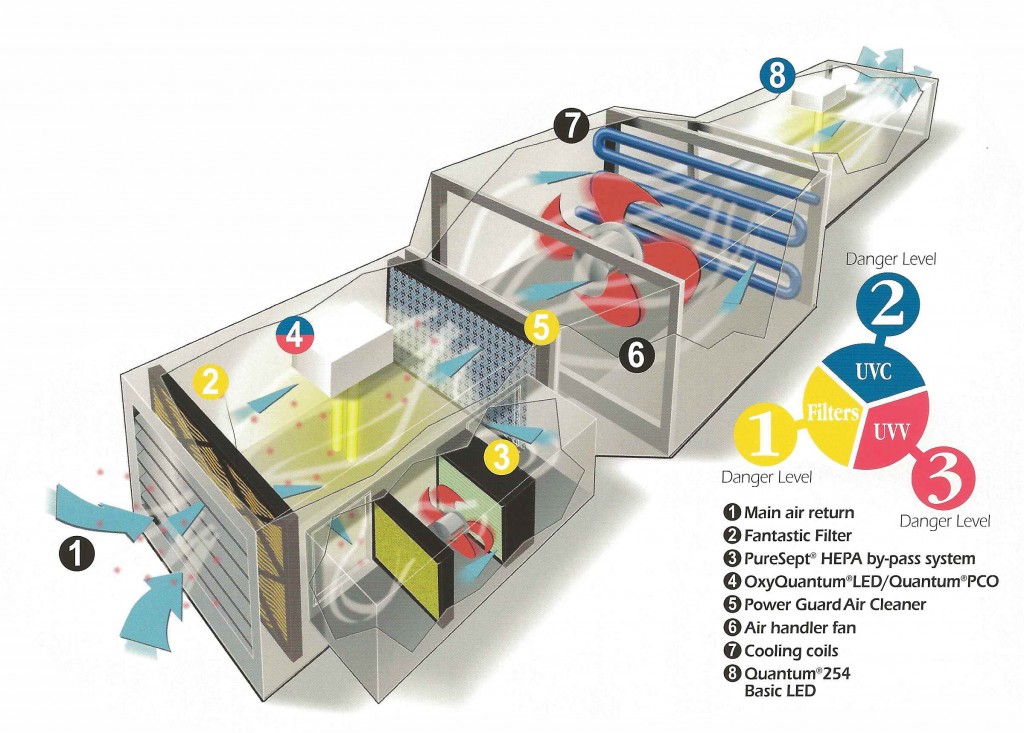 Control the indoor air environment in your house by upgrading your existing furnace into a decontamination chamber by adding a few air purification products and make a few quick and easy modifications to your home air duct system. These modifications can ensure you will have the Best Indoor Air Quality possible.
Air treatment technologies & services you may consider to improve the air quality in your house are:
Electronic Air Purification
Ultraviolet Light Purification
Residential HEPA Air Filtration
Carbon Monoxide Monitoring
Video inspection & Air Duct Cleaning
Indoor Air Humidification
Indoor Air De-Humidification
98% of all indoor air particles are less than one micron in size
A micron is a metric measurement used to analyze very small particles. One micron is equal to 1/25,400 of an inch or one millionth of a meter. Why is this important? By knowing the size of the particles that we are trying to capture, we can determine which products offer the best solution to capturing those tiny unwanted airborne particles. The chart on the right provides a visual representation of the spectrum of common air contaminants and their measured sizes in microns.
When discussing indoor air quality solutions it is important to determine how effective a product is at capturing/controlling contaminants 2.5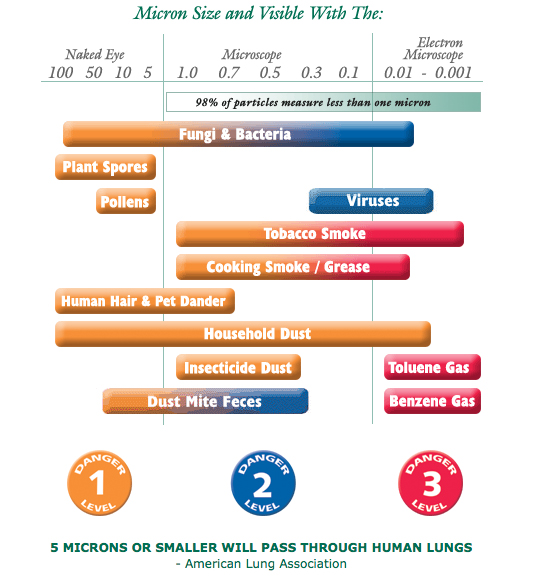 microns or less in size. Any particles less than 2.5 microns are classified as a Respirable Suspended Particle (RSP) and the health hazards with these small particles is great. RSP's are particles that are small enough to evade mucosal capture by the protective cilia and mucosa of the human upper respiratory system and invade the deeper reaches of the lungs with serious health consequences. In fact, any particles of five microns or less are considered a definite inhalation hazard because of the inability of the human body to filter effectively these particles from the lungs.
Allergenic particles, infectious agents and toxic gases can cause allergic reactions, headaches, sickness and many other illnesses. Since 98% of airborne contaminants are less than one (1) micron in size, knowing the effectiveness of any product at controlling sub-micron particles is very important when making a decision on an air purification system for your home.